Global
Top 30
Leadership Influencer
The room is perfectly quiet except for one voice, that of your keynote speaker. She has your audience's full attention. Occasional bursts of laughter applaud her humorous delivery style. The centrepiece of your conference is a success.
This is what the best conferences achieve. This is what Dr. Mahler's keynote sessions achieve time and time again. Her keynotes are informative, practical, and actionable. They engage their audiences with humour and they hold them with their distinctive and sometimes challenging ideas.
They are talked about months later. Gillian Folan from Schneider Electrics, stated, "I have not stopped raving about your presentation from November."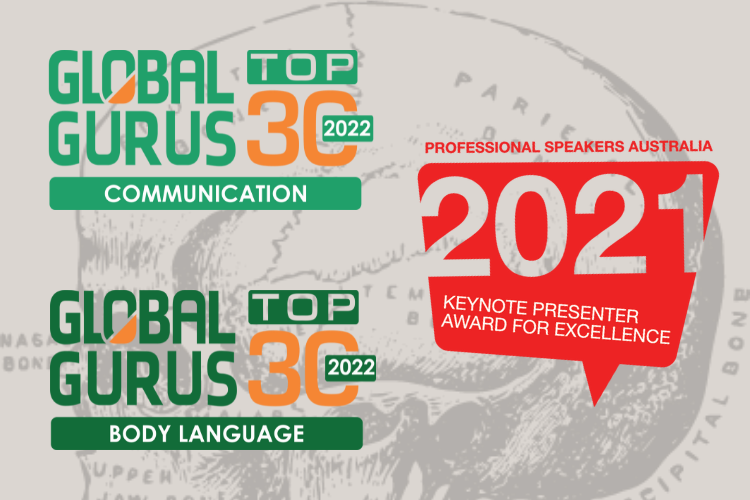 Authenticity and trust are now inescapable. People demand them from financial institutions. From leaders. From everyday brands. They are fundamental to success.
Technology is helping, but also hindering. There is no replacement for interpersonal excellence.
In this presentation, Dr Mahler presents practical skills for building credence and restoring the building blocks of trust.
inVISIBLE: For women in business
Diversity and inclusion are not achieved without encountering challenges. But in-visibility is a choice. You are responsible for your destiny.
This presentation is about breaking down the barriers, being clever about how you engage with hard conversations, and giving of yourself without hesitation.
It's about the five key barriers to visibility and how you are responsible for removing them.
Leaders must inspire and engage. That task is more complex than it has ever been, a combination of interpersonal skills and the power to navigate today's communications ably.
Dr Mahler investigates the roles of body language, vocal psychology and patterns of conversation that control presence and influence. Her insight and stories of Ancient Rome will change the way you think, act and speak to achieve respect and authority.
Overcoming Performance Stress/Towards the Light
PURPOSE: Virtual Program/Live Keynote
Many of us are under stress and the old techniques are not serving us in a Covid-ravaged-world under the magnifying glass of the digital camera. Many struggle to speak, be heard and get the critical messages across succinctly.
Let's break the myth! Taking a deep breath and relaxing has not worked and in this presentation, we will re-think your patterns and processes in a highly interactive and fun engagement. Dr Mahler will share the 7 key physical and vocal skills and techniques to break your patterns of stress and discover that a framework is the key to feeling secure, sounding trustworthy and exuding professionalism with every word.
"Louise came with an outstanding reputation and did not disappoint. She was engaging, full of energy and involved the audience. The information and techniques she delivered resonated with our delegates and as evidence by their feedback, many of our delegates intend to incorporate into their daily interaction with others. Both the workshops and plenary keynote added to the success of this year's conference"
Louise Olsen
AMP Services
"You were a star. We have never had people receive ratings of 6 out of 5 before. Well done. It was everything I knew it would be for the session, and I have heard from a number of delegates who are already reaching out to you for in-house activities."
Jonathan Champ
Research & Content Director, Asia Pacific | Melcrum
"Thank you Dr Louise Mahler - thoroughly enjoyed this morning's session and every minute was worth thousands, you packed in so much practical stuff! Took away more from this one session than many books and courses."
Michelle Roberts
Product Manager | Macquarie Bank
"Dr. Louise Mahler is a global 'top 30' leadership influencer. An international speaker, executive mentor, and coach, she advises top 100 listed companies and governments on high-stake engagements. Winner of the Award for Speaker Excellence in Australia in 2021, she is the author of Resonate (Penguin Random House)."
Marlo Kyriakou
Head of Agile Transformation and Delivery | Viva Energy
"Attendance at Louise's session more than double our usual numbers and the feedback was simply amazing. Following the session people spontaneously were in contact to thank the team for such an engaging and useful session and we will be working with Louise further in the future."
Nic
Senior Adviser L&D
"The most wonderful thing was to see the smiling and hear the continuous laughter. And they all couldn't stop talking about it. Everyone was saying "see you next year" It absolutely hit the mark!"
Alexandra Wornes
National Support
"Everyone who attended has been singing your praises and I have heard such wonderful feedback about how enjoyable, insightful and practical your sessions were - you made it so very easy for everyone to take away a new awareness of how to best present ourselves and simple things we can do to improve our gravitas! On a personal note, I absolutely loved the session and am trying to implement the learnings everyday."
Nova Justen-Hoven
Policy Lawyer
"Not one person with the head down on the phone. Louise was a fantastic close to the conference and there has been incredibly positive feedback."
Sandra Ball
Project Director
"Louise, put simply, you are absolutely phenomenal. To present to a group such as ours is very different yet you came in with such enthusiasm, energy and drive. We have taken so much away already and cannot wait to have you present again as we only just scratched the surface."
The Family and Injured Worker's Support and Advisory Group
"The feedback has been fabulous. Certainly, having a quality speaker like Louise was absolutely the right decision to make. The following week a member did two presentations, and the improvement was incredible. We learnt a lot and this is having a major impact."
Simon Stredder
Director, CFP Professional and Financial Advisor
"You were extremely engaging and informative all aligned with humour and interaction which made it very memorable. I really appreciated how you tailored the session to the role of the sales teams and even added in some specific details to their products. The feedback has been excellent and people are talking about the session constantly."
Phil Hutton
Senior Manager Training
"I have seen you in action a couple of times before our event and you continue to impress me with your engagement with audience, content of presentation and sense of humor. I received tremendous feedback from the participants and several expressed that it was one of the best sessions. I believe everyone took away at least one great tip / learning from you. Look forward to continuous partnership!"
Serene Koh
Regional Human Resources Leader
"The interaction was amazing and beating everything for the session people are still talking about. We will be booking Louise again."
Danni Fuller
Even Manager, The Professionals
"Louise was the energiser the people needed. Her presentation was relevant to the audience, really fun and we had lots of great feedback. It was pretty amazing to see everyone participating - especially singing - and a measure is that after the speech and the drinks they were talking about the content. Even later at dinner people were still talking about it and I'm sure people went home and kept talking about it. So beneficial. "
Rob Spence
Educational Consultant, School Counselling and Psychology Association NSW
Be heard in hostile environments
Interested in booking Louise for an event or enquiring about booking one of Louise's programs?
Fill out the form, Louise can't wait to hear from you!