Trump's Cult Appeal – Nothing in Trump's body language or voice is an accident. Many of his skills date back to Ancient Rome, but in our digital world they are an anathema to many, giving those that own them a distinct advantage and, those who don't, the disadvantage of poor communication and, like the child who does not realise the sleight of hand of the magician, the disadvantage of being easily manipulated. 
Skills Trump is seen to utilise regularly include keeping his palms out and flat towards his audience, a gesture of trust. Like the magician we are bewildered into thinking there is nothing to hide. He combines this with a free body and the chest raised. He keeps his arms wide knowing we trust people who reveal their body and are not constantly shielding themselves. He gestures congruently (for clarity). When he clenches his fist, which he has done regularly over the last week, he means business.
As an example of his congruent gesturing, in his State of the Union Address, January 2018, he spoke of  hope, the future, and  "A new tide of optimism".  To enhance this message, he used only his right hand and his left hand stayed behind the lecturn. Of course, the word for left in Latin in sinistra and the left hand has classically represented the past or negativity. Trump is always fully aware of these nuances.
It is a little known that Hitler practiced his gestures as seen in photos that emerged in 1955 of his rehearsals in 1925. The open palms and clenched fist are there to behold. Might I add that these are gestures you will be hard placed to find for leaders such as Angela Merkel today.
Interestingly I am told that the second in command often bites. Sir James, Characteristic of Trump is that he always turns his body towards his questioners as a position of 'lack of fear'. He also has 'set' positions that he uses for neutrality. The one he takes to listen in interview is to steeple his hands, again, not covering his body by low between his legs.  Each and every moment is a conscious reflection to support his intention.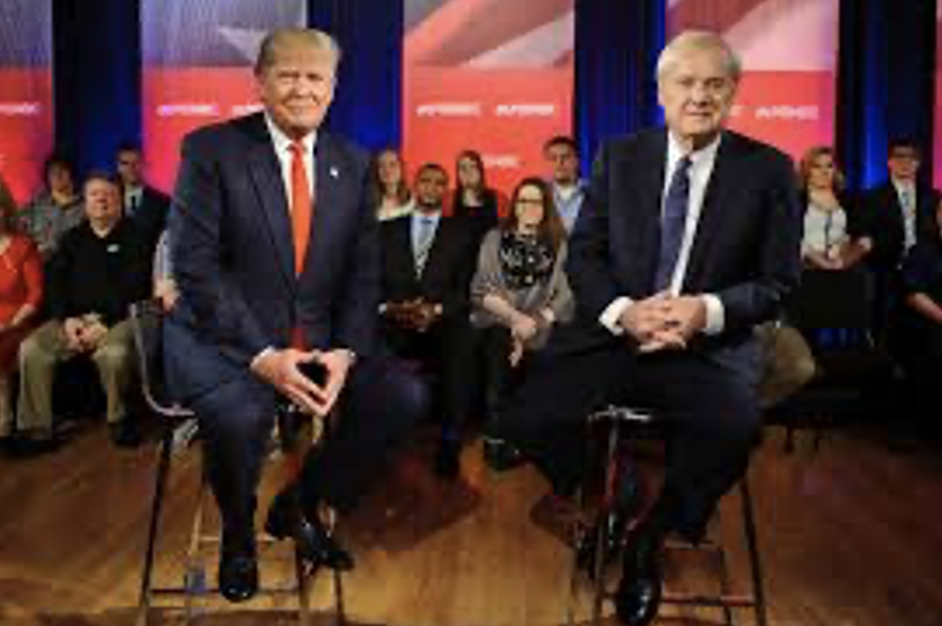 The smug smile is especially unusual in a leader. For this effect he smiles with the eyes and his mouth, both of which being necessary for a genuine 'Duchene' smile, but the bottom lip is drawn up high over the top teeth. This has messages of being fully closed – the message is that the statement is complete, he is happy with it and it is not open for further discussion. 
And Trump's eye contact is carefully managed. He is never distracted, and his focus is clearly on the people around him and focused on individuals one after the other.
Vocally Trump is highly aware of the voice of leadership as low and masculine. Remember how he commented on Hillary's voice as 'shrill'. Yes, a woman's voice is higher than a man's and the perception of leadership is a voice that is low, but this is not actually a reality of leadership. Reinforcing this stereotype is an easy hit.
Rhetorically he uses three-word statements ad nauseum. The most obvious is "make America great", but there are myriads of others, often in contrast to his previous story such as 'I love women'.
And you don't need to listen for long to hear patterns of three in his speech:
their concerns, their hopes, and their dreams
endured floods and fires and storms
we are building a safe, strong, and proud America 
He also continually inserts universal quantifiers like 'everybody' or the 'whole world' or 'nobody'. During the debate he referred to Biden, not as having poor marks, but actually having the 'lowest marks'. These types of statements add weight to an argument and, it is a giveaway that as they are part of his chronic pattern, when these universal quantifiers are missing, you know immediately that the speech is written for him.
One delicious term I have read is 'Thingification'. For instance, Trump labels the news media as the Enemy of the American People. In Ramona Sukhraj's criteria for a cult, the creation of an enemy is paramount. Combining this need for an enemy and 'thingification' the media become are an actual thing. He creates an avatar of evil.
Sukhrai also says that, for cults, 'difference' is essential. You need to distance your cult from the establishment or norm. People love to rebel against the norm. Other areas of cult creation such as solidarity, ideology, love-bombing and having constant contact are seen in his tweet posts.  
Trump's short video calling for the rioters to leave was a magnificent example. In this one-minute video, he covers everything:
He relates: "I know your pain", "I know your hurt", "I know how you feel"
He uses universal quantifiers: "Everyone knows it"
He spoke in sets of three:  "from me, from you, from our country"
He addressed the enemy: "especially the other side" "others that are so bad and so evil"
He love-bombed:  "We love you. You're very special." 
Guess what, each time 3 words!
Vocally it has pause. It has rhythm. It has an end cadence.
Bodily he is thrusting his chest up and, at the end, does his signature move with the arms drawn in and expanding out to the side, swiftly, with palms facing forward.
This was Trump to a Tee – all in one minute. 
In contrast, the official speech in response to the riots was clearly written for him. There is no love-bombing, no 3-word messages and no universal quantifiers.  The voice was monotone and the body stiff with anger in the jaw and the neck clamped.
For those that follow Trump – and there are over 70 million of them – he refers to them as 'True Believers'. The term 'true believer' was made famous more than 65 years ago in Eric Hoffer's 1951 book, "The True Believer: Thoughts on the Nature of Mass Movements." Hoffer wrote "The True Believer" in reaction to the rise of fascism, Nazism and communism, so this was an unusual term. True Believers have 'blind faith' and intolerance of those who don't agree. They have 'all the answers' to life's conundrums, and certainty about the validity and supremacy of their beliefs, in spite of evidence to the contrary.  Trump himself may have characterized his most fervid followers when he said, "I could stand in the middle of Fifth Avenue and shoot somebody and I wouldn't lose voters." 
Here's our challenge: the body and voice carry extreme levels of influence, unrecognised by many and consequently dangerous in their hypnotic application. Contrary to what many critics say, True Believers are not necessarily ignorant yahoos. When it comes to 'influence' there is a slogan that says, 'good people make good victims'. Consequently, we do not want to fall into the trap of saying that the opposite of his non–political behaviour is 'idiocy'. Time Magazine tells us Protestors, activists and Internet users are seeking to influence Google's algorithm so that when the term "idiot" is searched for, images of Trump pop up on Google.  'Trump is an idiot', says the Guardian as does the Observer. Biden tells us 'Trump is an embarrassment". I know little about strategies for dealing with people who have been involved in cults. I know, however, that telling them their leader is an idiot or an embarrassment is not one.
How do we combat the psychological effects? Psychology Today tells us the True Believers confidence and elevated spirits are accompanied by positive emotional and visceral sensations of joy and fulfilment. These are frequently accompanied by anger at the labelled 'causes' of their tribulations.  Like those exiting a cult, these strengths of emotion are difficult to replace.